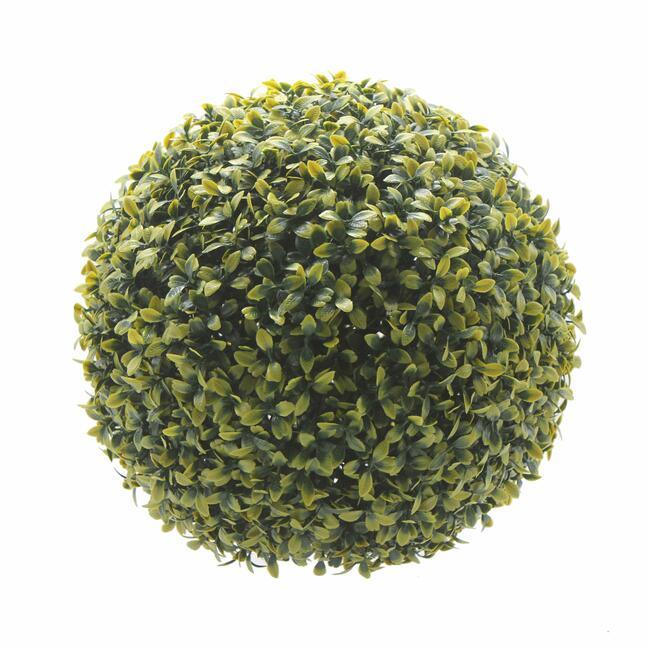 Umelá guľa Tea 45 cm
22 pcs
in stock for immediate dispatch
14 dní na vrátenie
Naše produkty nesplnili Vaše očakávania? Napíšte nám a my Vám poskytneme zľavu alebo vrátime celú platbu.
Description
Parametre
Priemer našej umelej guli Tea je 45 cm. Skladá sa z dvoch pologúľ, ktoré jednoduchým spôsobom spojíte do jedného celku. Pôsobí veľmi hustým dojmom vďaka rafinovanej melírovanej farbe lístkov, ktorá plynule prechádza z tmavozelenej, do svetlejšej zelenej. Táto umelá guľa je vyrobená z plastu s UV ochranou.
Umiestnenie
Tieto gule môžete tiež ozdobiť svetielkami a vytvoriť tak vo vašej domácnosti, alebo v záhrade skutočne očarujúcu atmosféru. Umelá guľa Tea je vyrobená z kvalitného plastu, kvôli čomu je skutočne trvácna a odolná voči poveternostným vplyvom. Vďaka UV ochrane ju môžete umiestniť aj do exteriéru.
Kombinácie
Naša umelá guľa Tea štýlovo ozdobí terasu, alebo balkón ako samostatne stojaca dekorácia, alebo v kombinácii s ďalšími kvetmi a rastlinami vytvoríte príjemnú atmosféru a to na počkanie. Gule môžete umiestniť do kvetináčov, alebo zavesiť pomocou retiazky a tak vytvoriť pekný a zároveň veľmi účelový predel v priestore.
Parameters
| | |
| --- | --- |
| Product code | 30014 |
| Average | 45 cm |
| UV Protection | yes |
Reviews
0 z 5
This product has no ratings.
Be the first to rate it!