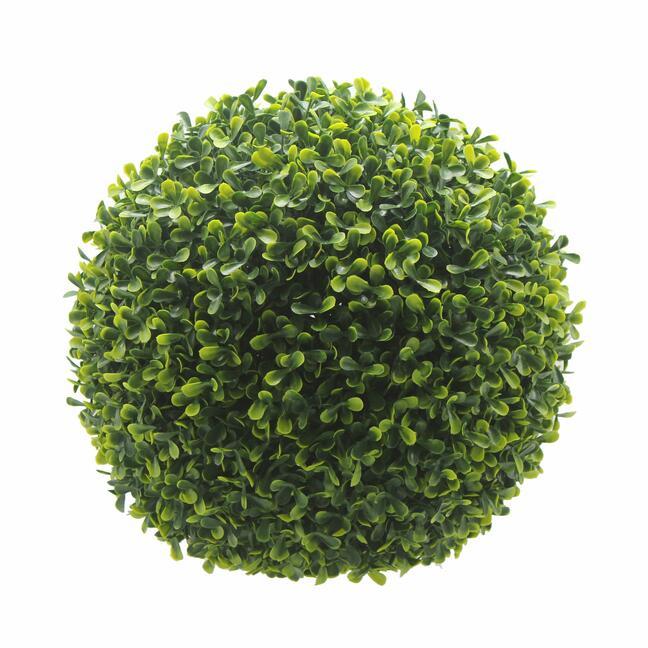 Umelá guľa Pittoso 45 cm
19 pcs
in stock for immediate dispatch
14 dní na vrátenie
Naše produkty nesplnili Vaše očakávania? Napíšte nám a my Vám poskytneme zľavu alebo vrátime celú platbu.
Description
Parametre
Umelá guľa Pittoso má priemer 45 cm. Skladá sa z dvoch pologuľ, ktoré vzájomne spojíme. Je krásnej zelenej farby. Vyzerá veľmi prirodzene a vďaka UV ochrane je vhodná aj do exteriéru.
Umiestnenie
Môžete ju umiestniť do kvetináčov, alebo zavesiť pomocou retiazky. Môžete ich tiež ozdobiť svetielkami a vytvoriť tak vo vašej domácnosti alebo v záhrade očarujúcu atmosféru. Guľa je vyrobená z vysokokvalitného plastu, vďaka čomu je skutočne trvácna a odolná voči poveternostným vplyvom. Skrášli váš interiér, alebo záhradu a dodá im nový zaujímavý vzhľad. Využijete nielen v interiéri ale aj na balkóne či terase. Táto dekorácia si našla uplatnenie aj v reštauráciách či kongresových halách.
Kombinácie
Naša umelá guľa Pittoso vo vysokom kvetináči vytvorí harmonický obraz po celý rok, ale je aj možnosť si ju sezónne vyzdobiť. Ozdobená svetelnou reťazou prispieva v zimnom období k vianočnej nálade. Husté lístky, s rôznymi odtieňmi zelenej farby sa dajú dotvoriť rôznymi drobnými kvietkami a vznikne vám neobyčajne krásna dekorácia podľa vašich predstáv. Môžete si ju umiestniť do kvetináča, samostatne položiť na zem alebo jednoducho zavesiť. Krásne dekoruje schodisko, terasy a vstupy do domov, či hotelov. Veľmi pekná a zároveň jemná je napríklad kombinácia s guľou Jasmín z našej ponuky.
Parameters
| | |
| --- | --- |
| Product code | 30026 |
| Average | 45 cm |
| UV Protection | yes |
Reviews
0 z 5
This product has no ratings.
Be the first to rate it!