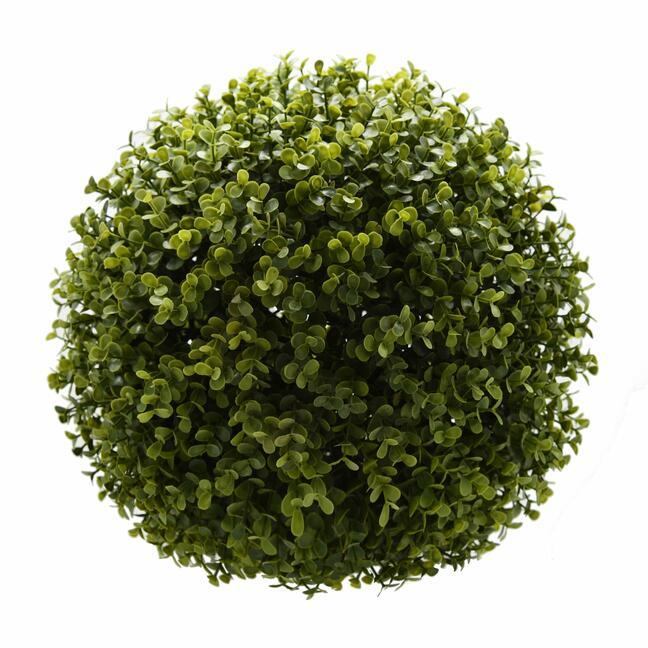 Umelá Buxusová guľa 45 cm
43 pcs
in stock for immediate dispatch
14 dní na vrátenie
Naše produkty nesplnili Vaše očakávania? Napíšte nám a my Vám poskytneme zľavu alebo vrátime celú platbu.
Description
Parametre
Naša umelá Buxusová guľa má priemer 45 cm. Skladá sa z dvoch pologúľ. Montáž je veľmi jednoduchá - jednoduchým kliknutím spojíte pologule, ktoré do seba zapadnú a tak tvoria jeden celok v tvare gule. Vďaka detailne prepracovaným listom je naša buxusová guľa veľmi realistická. Je vyrobená z veľmi kvalitného plastu s UV ochranou, vďaka tomu ostane veľmi dlho sviežo zelená aj pri použití v exteriéri. Listy zostávajú mimoriadne pružné a v správnom tvare. Tieto buxusové gule sú vhodné na vnútorné, ale aj vonkajšie použitie.
Umiestnenie
Dekoratívna umelá buxusová guľa na skrášlenie exteriéru, či interiéru je celoročnou dekoráciou, ktorú môžete umiestniť do kvetináča, samostatne položiť na zem, alebo jednoducho zavesiť. Možno ju i sezónne ozdobiť. Vďaka stále zeleným umelým listom bude vaša záhrada, alebo balkón pôsobiť veľmi prirodzene. Skvelá, decentná dekorácia, ktorá by nemala chýbať v modernom interiéri, či exteriéri. Krásne dekoruje záhradné terasy, schodisko, balkóny a vstupy do domov.
Kombinácie
Je ideálnou náhradou živého Buxusu, vhodná na voľné položenie, umiestnenie v kvetináči alebo na zavesenie. Veľmi pekne vynikne v kombinácii s inými druhmi umelých gúľ, ako napr. Gradenia červená.
Parameters
| | |
| --- | --- |
| Product code | 30011 |
| Average | 45 cm |
| UV Protection | yes |
Reviews
0 z 5
This product has no ratings.
Be the first to rate it!