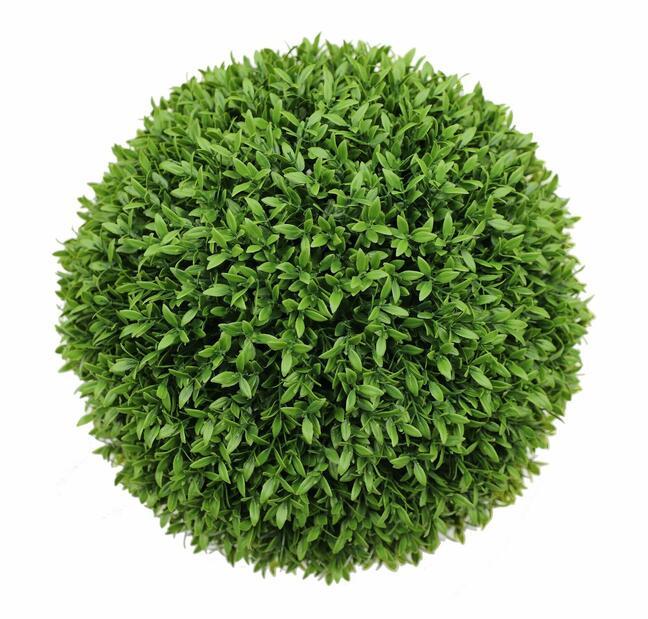 Umelá guľa Aptenia 45 cm
19 pcs
in stock for immediate dispatch
14 dní na vrátenie
Naše produkty nesplnili Vaše očakávania? Napíšte nám a my Vám poskytneme zľavu alebo vrátime celú platbu.
Description
Parametre
Umelá guľa Aptenia má priemer 45 cm, skladá sa z 2 pologúľ, spoje sú z plastu. Jej farba je svieža zelená a pôsobí veľmi hustým dojmom. Vďaka UV ochrane je vhodná aj do exteriéru.
Umiestnenie
Rastlina v netradičnej podobe guli, je veľmi zaujímavá dekorácia vo vašom interiéri, ale aj exteriéri. Naša umelá guľa Aptenia môže byť umiestnená napríklad aj zvisle zo stropu, čím zdôrazní kreatívny dizajn priestorov. Môžete ju položiť len tak na zem, alebo vyplniť prázdne miesto na nábytku. Táto dekorácia si našla široké uplatnenie v nákupných centrách, hotelových zariadeniach, či v kongresových halách. Terase, či zimnej záhrade dodá šmrnc a individuálny charakter. Jej krásna zelená farba rozžiari každý priestor kdekoľvek bude umiestnená.
Kombinácie
Umelú guľu Apteniu si môžete ozvláštniť napríklad s drobnými kvietkami, ktoré sa dajú veľmi ľahko zapichnúť do hustej koruny a budú tak pekne ladiť s interiérom. Umiestnite našu umelú guľu Apteniu do vysokého kvetináča a získate tak veľmi luxusnú dekoráciu a doplnok vášho interiéru, či exteriéru. Môžete ju situovať napríklad aj do ozdobného truhlíka, a ako podklad použiť dekoračné kamienky, alebo dekoračné štiepky, ktoré nájdete aj u nás v ponuke. Vytvoríte tak naozaj elegantnú dekoráciu, ktorá vášmu priestoru dodá nezameniteľný šmrnc.
Parameters
| | |
| --- | --- |
| Product code | 30035 |
| Average | 45 cm |
| UV Protection | yes |
Reviews
0 z 5
This product has no ratings.
Be the first to rate it!