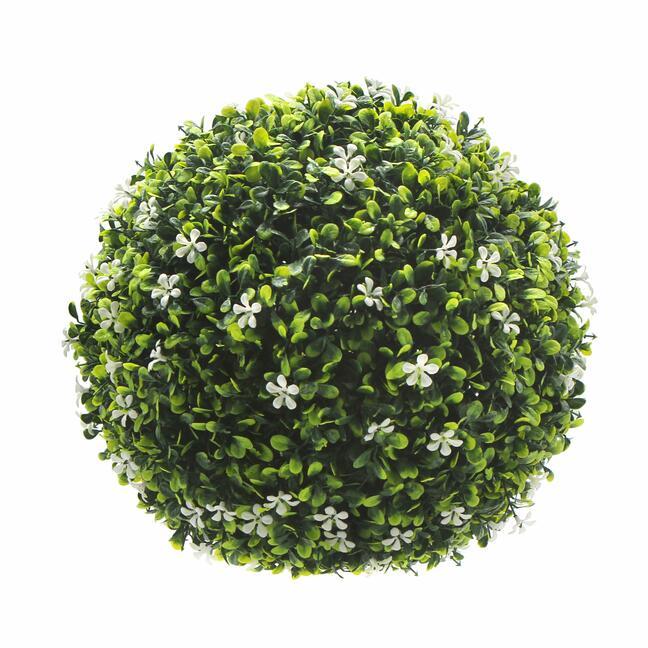 Umelá guľa Jasmine 45 cm
24 pcs
in stock for immediate dispatch
14 dní na vrátenie
Naše produkty nesplnili Vaše očakávania? Napíšte nám a my Vám poskytneme zľavu alebo vrátime celú platbu.
Description
Parametre
Umelá guľa Jasmín má priemer 45 cm. Zaujímavé sú na nej lístky v odtieňoch svetlej a tmavozelenej farby. Výrazným prvkom sú biele jasmínové kvietky, ktorými je táto guľa posiata. Pozostáva z 2 pologúľ, ktoré majú na okrajoch spoje, pomocou ktorých sa guľa spojí do jedného celku. Je vhodná do interiéru a vďaka UV ochrane aj do exteriéru. Na jej výrobu bol použitý kvalitný plast.
Umiestnenie
Dekorácie a doplnky sú pomyselnou čerešničkou interiéru. Takou môže byť aj naša umelá guľa Jasmín, ktorá má široké využitie ako dekorácia. Prinesie kus moderného dizajnu vďaka farbám prírody, ktoré upokojujú a uvoľňujú. Umiestnite umelú guľu Jasmín v obývačke, hale, na terase, či kancelárii kde bude vytvárať akúsi prirodzenú kulisu a zároveň aj pohľadovú bariéru, čo ešte viac prispeje k psychickej pohode.
Má miesto skôr v moderných, pripadne štýlovo zariadených interiéroch domácností, alebo komerčných miestností. Vstup do domu si môžete skrášliť umelou guľou Jasmín umiestnenou napríklad vo vysokom kvetináči.
Kombinácie
V exteriéri odporúčame Umelú guľu Jasmín kombinovať s Cypruštekmi umiestnenými v kvetináči, čím získate zaujímavú kompozíciu založenú na variabilite tvarov a veľkostí. Ako podklad použite napríklad drvený mramor. Všetky spomenuté produkty nájdete u nás na stránke.
Parameters
| | |
| --- | --- |
| Product code | 30020 |
| Average | 45 cm |
| UV Protection | yes |
Reviews
0 z 5
This product has no ratings.
Be the first to rate it!