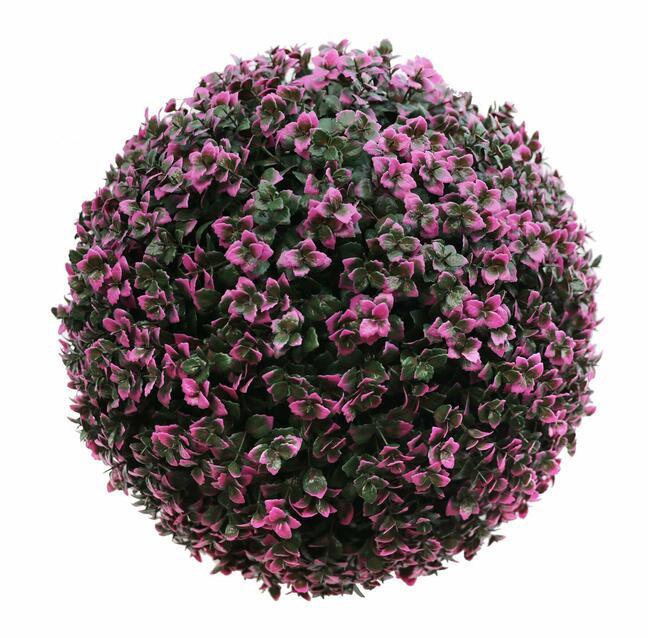 Umelá guľa Pachysandra 45 cm
45 pcs
in stock for immediate dispatch
14 dní na vrátenie
Naše produkty nesplnili Vaše očakávania? Napíšte nám a my Vám poskytneme zľavu alebo vrátime celú platbu.
Description
Parametre
Naša umelá guľa Pachysandra má priemer 45 cm. Skladá sa z dvoch častí, ktoré je potrebné do seba vzájomne spojiť. Vďaka UV ochrane je vhodná nie len do interiéru, ale aj do exteriéru. Umelá guľa je vyrobená z kvalitného plastu, vďaka čomu je skutočne trvácna a odolná voči poveternostným vplyvom. Listy sú tmavo zelenej farby a konce listov sú sfarbené do krásne sýtej ružovej farby.
Umiestnenie
Husté tmavozelené lístky na koncoch ružovej farby, dodávajú tejto rastline realistický a krásny vzhľad. Vytvorte si doma vlastnú perfeknú dekoráciu podľa vašich predstav z krásnych umelých gulí Pachysandra, ktoré vás môžu tešiť celoročne. Využijete ich nielen v interiéri, ale aj na balkóne či terase. Momentálne patrí medzi najobľúbenejšie dekorácie, či už v domácnostiach, reštauráciách, wellness centrách, ale aj v hoteloch.
Kombinácie
Umelá guľa Pachysandra je určená na skrášlenie exteriéru, či interiéru, je celoročnou dekoráciou, ktorú si môžete jednoducho zavesiť zo stropu, samostatne položiť na zem, alebo umiestniť do kvetináča z našej ponuky. Krásne dekoruje schodisko, terasy a vstupy do domov.
Vybrať si môžete z rôznych rozmerov kvetináčov a kombinovať aj s ďalšími dekoračnými guľami z našej ponuky.
Parameters
| | |
| --- | --- |
| Product code | 30047 |
| Average | 45 cm |
| UV Protection | yes |
Reviews
0 z 5
This product has no ratings.
Be the first to rate it!