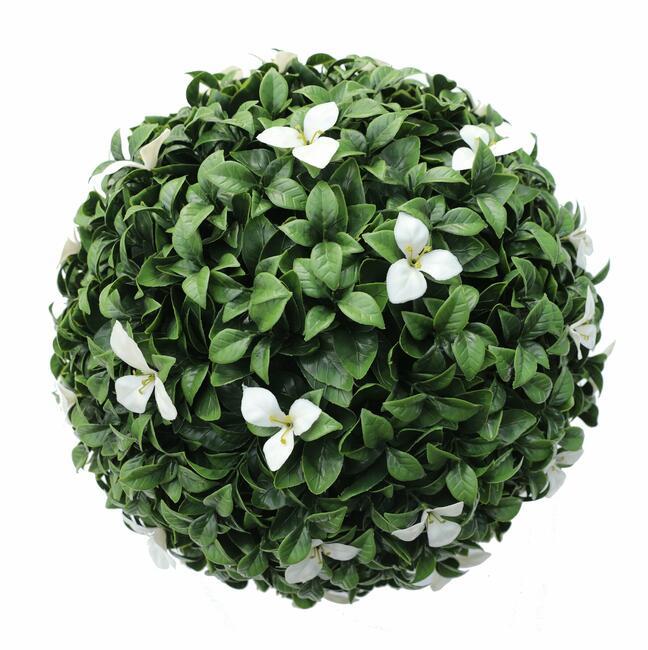 Umelá guľa Gradenia biela 45 cm
22 pcs
in stock for immediate dispatch
14 dní na vrátenie
Naše produkty nesplnili Vaše očakávania? Napíšte nám a my Vám poskytneme zľavu alebo vrátime celú platbu.
Description
Parametre
Naša umelá guľa Gardenia biela má priemer 45 cm. Obsahuje krásne biele kvietky a kvalitne spracované zelené listy, ktoré sú na nerozoznanie od živých. Naša guľa sa skladá z dvoch pologúľ, ktoré sa skladajú do seba a tak vytvárajú jeden celok. Guľa má aj UV ochranu, takže je vhodná na umiestnenie aj do exteriéru.
Umiestnenie
Naša umelá guľa Gradenia biela je vhodná do interiéru no vďaka UV ochrane je možné ju umiestniť aj do exteriéru. Ideálna do kvetináčov, alebo na zavesenie pomocou retiazky. Je to vhodný doplnok do hotelov, na terasu či balkón. Veľmi pekne vyplní otvorené miestnosti. Taktiež sa hodí do záhrady a môžete ju doplniť napríklad dekoračnými štiepkami, alebo ozdobnými kamienkami, ktoré nájdete aj u nás v ponuke.
Kombinácie
Umelú bielu guľu Gardéniu môžete kombinovať aj s ostatnými umelými guľami ako sú napríklad Buxusy, Krušpán, či guľa Tea. Taktiež ju viete veľmi pekne skombinovať aj so živými rastlinami vo vašej záhrade. K tejto guli sa hodia vysoké lesklé kvetináče tmavej, ale aj svetlej farby. Vytvoríte tak nádherne luxusnú dekoráciu, ktorú môžete umiestniť kamkoľvek.
Parameters
| | |
| --- | --- |
| Product code | 30041 |
| Average | 45 cm |
| UV Protection | yes |
Reviews
0 z 5
This product has no ratings.
Be the first to rate it!