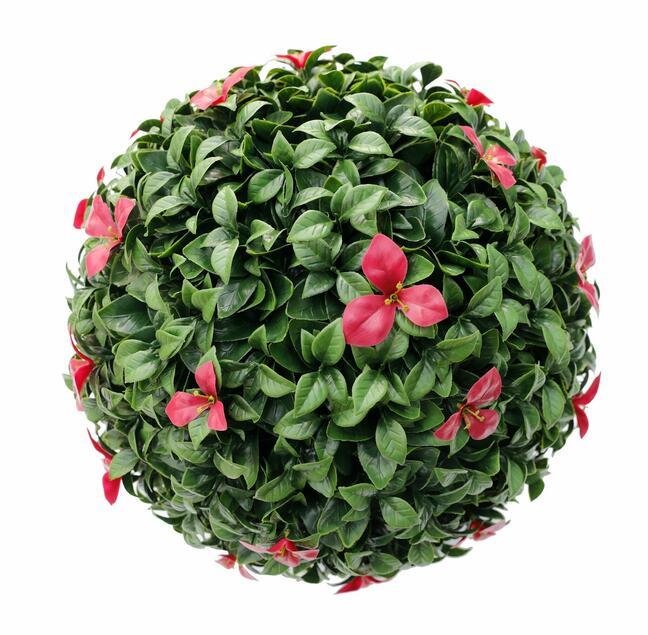 Umelá guľa Gardenia červená 45 cm
47 pcs
in stock for immediate dispatch
14 dní na vrátenie
Naše produkty nesplnili Vaše očakávania? Napíšte nám a my Vám poskytneme zľavu alebo vrátime celú platbu.
Description
Parametre
Priemer našej umelej guli Gardenia červená je 45 cm. Skladá sa z dvoch pologúľ, ktoré sa upevnia do seba. Pôsobí veľmi hustým dojmom. Na umelej guli sa nachádzajú krásne červené kvietky Gardenia. Táto naša umelá guľa Gardenia červená má aj UV ochranu čo znamená, že je vhodná na umiestnenie aj do exteriéru.
Umiestnenie
Umelú guľu Gardenia červená, môžete voľne položiť na zem, do exteriéru na trávnik, alebo umiestniť do najlepšie jednofarebného kvetináča. Veľmi efektne bude pôsobiť ak ju necháte napríklad aj visieť. Husté lístky s rôznymi odtieňmi prírodnej zelenej farby a červené kvety Gardénie dodávajú tejto rastline realistický a naozaj očarujúci vzhľad.
Kombinácie
Túto našu umelú guľu Gardeniu červenú môžete tiež ozdobiť svetielkami a vytvoriť tak vo vašej domácnosti, alebo v záhrade skutočne očarujúcu atmosféru. Umelá guľa je vyrobená z kvalitného plastu a s UV ochranou, vďaka čomu je skutočne trvácna a odolná voči poveternostným vplyvom.
Parameters
| | |
| --- | --- |
| Product code | 30044 |
| Average | 45 cm |
| UV Protection | yes |
Reviews
0 z 5
This product has no ratings.
Be the first to rate it!