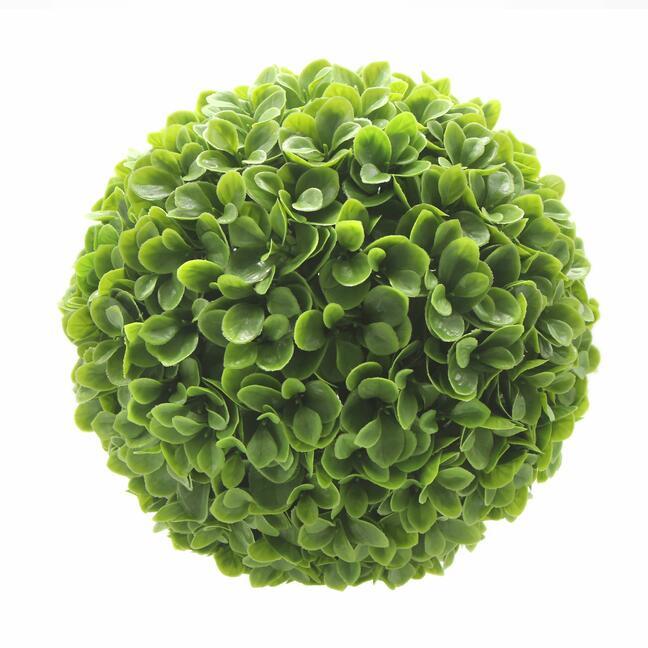 Umelá guľa Jade Leaf 45 cm
21 pcs
in stock for immediate dispatch
14 dní na vrátenie
Naše produkty nesplnili Vaše očakávania? Napíšte nám a my Vám poskytneme zľavu alebo vrátime celú platbu.
Description
Parametre
Umelá guľa Jade Leaf má priemer 45 cm. Je s UV ochranou. Svieže zelené listy, ktoré pôsobia veľmi hustým dojmom sú vyrobené z kvalitného plastového materiálu. Guľa sa skladá z dvoch pologúľ. Montáž je veľmi jednoduchá - kliknutím spojíte dve pologule, ktoré do seba zapadnú a tak utvoria jeden celok.
Umiestnenie
Dekoratívna umelá guľa Jade Leaf je skvelou dekoráciou do interiéru, ale vďaka UV ochrane je vhodná na použitie aj do exteriéru. Dá sa umiestniť do záhonov, alebo zavesiť pomocou závesnej reťaze, len tak položiť na zem, alebo do kvetináča príslušného rozmeru napríklad pred vchod vášho domu. Niekedy je až prekvapujúce ako veľmi dokážu dekoratívne rastliny zmeniť celkový vzhľad či už v interiéri, alebo exteriéri.
Kombinácie
Pre ľudí, ktorí majú radi niečo extra, je možnosť vloženia žiarovky do vnútra gule, čím vytvoríte tajomnú, až romantickú atmosféru. Guľu Jade Leaf je možné veľmi dobre kombinovať aj s umelým živým plotom, alebo umelou zelenou stenou z umelých rastlín.
Parameters
| | |
| --- | --- |
| Product code | 30023 |
| Average | 45 cm |
| UV Protection | yes |
Reviews
0 z 5
This product has no ratings.
Be the first to rate it!