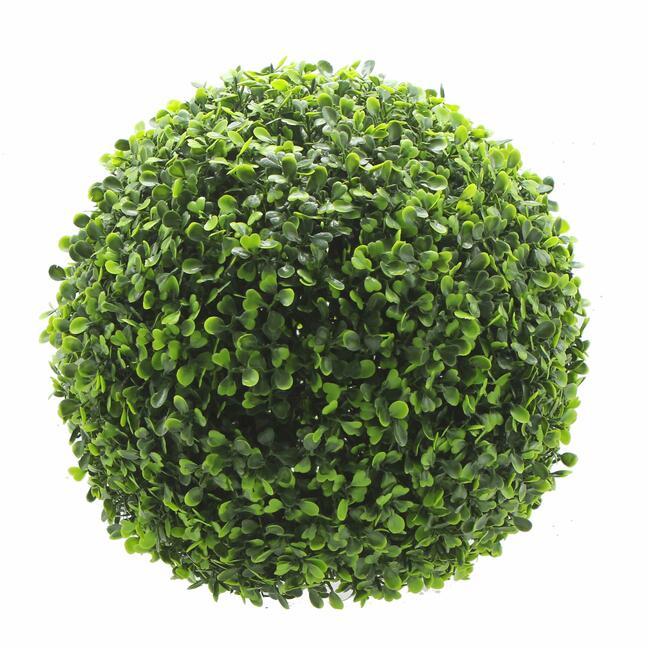 Umelá guľa Krušpán 45 cm
62 pcs
in stock for immediate dispatch
14 dní na vrátenie
Naše produkty nesplnili Vaše očakávania? Napíšte nám a my Vám poskytneme zľavu alebo vrátime celú platbu.
Description
Parametre
Naša krásna umelá guľa Krušpán má priemer 45 cm. Dekorácia pozostáva z dvoch pologúľ, ktoré je potrebné do seba spojiť. Na jej výrobu bol použitý plast s UV ochranou, čím jej využitie je možné aj v exteriéri. Lístky pôsobia veľmi prirodzeným dojmom a sú krásnej prírodne zelenej farby.
Umiestnenie
Predsieň by mala byť reprezentatívnym miestom, kde máte možnosť spraviť príjemný dojem na návštevu, ak vám to priestor dovolí umiestnite umelú guľu Krušpán do vysokého kvetináča, alebo ho nechajte visieť zo stropu. Stane sa dokonalým prvkom, ktorý nikto neprehliadne. Úžasne sa hodí na terasy, do zimných záhrad, v exteriéri na skalky, ale aj k živému plotu.
Kombinácie
Umelý Krušpán v tvare gule môžete tiež ozdobiť svetelnou reťazou a tak si ozvláštniť svoj interiér. Sada dekoratívnych gúľ so solárnymi svetelnými reťazami skrášli vašu domácnosť, alebo vylepší vašu záhradu. Doplniť ju môžete aj drobnými bielymi kvietkami, ktoré sa dajú do hustej koruny jednoducho aplikovať a tak si vytvoríme krásnu dekoráciu.
Parameters
| | |
| --- | --- |
| Product code | 30017 |
| Average | 45 cm |
| UV Protection | yes |
Reviews
0 z 5
This product has no ratings.
Be the first to rate it!