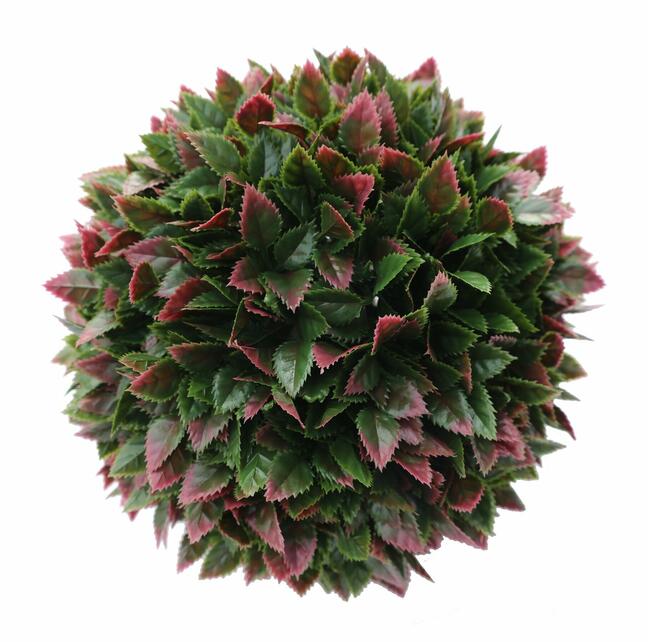 Umelá guľa Ruža 45 cm
47 pcs
in stock for immediate dispatch
14 dní na vrátenie
Naše produkty nesplnili Vaše očakávania? Napíšte nám a my Vám poskytneme zľavu alebo vrátime celú platbu.
Description
Parametre
Naša umelá guľa Ruža má priemer 45 cm. Skladá sa z dvoch pologúľ, ktoré do seba zapadajú, čím vytvoria jeden celok. Má tmavozelené plastové listy, ktoré sú lemované vínovo červenou farbou, ktorá dotvára jej exkluzívny vzhľad.
Umiestnenie
Guľa Ruža je vhodná do interiéru a vďaka UV ochrane vám zkrášli a zútulni váš exteriér. Ruža v tvare gule je vhodná na umiestnenie do kvetináča, je možné guľu položiť samostatne na zem, alebo zavesiť v interiéri. Potrebujete vylepšiť vzhľad svojej záhrady? Naša umelá guľa Ruža je ideálnym riešením, vyplní prázdne miesta a vstupy do domov. Jej výhodou je, že si ju môžete sezónne nazdobiť. Dekoratívna guľa Ruža je veľmi ľahko udržiavateľná.
Kombinácie
Naša umelá guľa Ruža s kombináciou s bielym štrkom a správnym výberom kvetináča vytvorí neodmysliteľnú útulnosť a skvelý dojem. Veľmi dobre sa k nej hodia najmä kombinácie dreva a ďalších prírodných materiálov, v ktorých spoločnosti dekorácia o to viac vynikne.
Parameters
| | |
| --- | --- |
| Product code | 30038 |
| Average | 45 cm |
| UV Protection | yes |
Reviews
0 z 5
This product has no ratings.
Be the first to rate it!