Today we will focus on interior design and restaurant or bar equipment. Tasteful and timeless equipment is a big plus and therefore any helpful information is beneficial.
When setting up a business, the entrepreneur has to deal with several factors that are not obvious to the average customer at first glance. The customer does not see behind the scenes preparations and often, the equipment of the company is often a difficult nut. As we know, the first impression is very important. It is this impression that is attributed to the company's equipment. It is necessary that a successful company offers not only quality products and serving, but also depends on where it is served .
The owner often follows his taste and his feelings when furnishing. Of course, you can always use the help of a professional who will try to materialize your ideas and lend a helping hand in furnishing. In today's article, we offer you a few inspirations that are considered to be the trend of 2020.
As we know, the Scandinavian style is very popular all over the world. At first glance, it seems to us that this style is based on the well-known idea: "There is beauty in simplicity." This is true, but we can win with the details and the whole space gets a completely different dimension. Typical shades of color are elegant white, cream or even ageless gray. It is these colors that are a sign of quality, stability and sophistication. From the ground up - from the walls, your business will look elegant and timeless on the customer.
Another feature of this style is the connection to nature. Wooden tables are a classic with which you can't spoil anything. When solid wood tables are combined with quality chairs, they form a perfect whole. Many designers are trying to return flowers to businesses. In this case, we encounter mainly larger plants such as ficus, olive tree or even dracena.
The icing on the cake is the lighting, which often often creates a different view of the room. A still hot trend is pendant lights, which are simple at first glance, but still original and charming. The combination of sandblasted glass with a gold-plated metal holder will be an option that is guaranteed to pay off.
The combination of wood, light tones on the walls, flowers and simple lamps is guaranteed to create a whole that will draw every single potential customer into your business. The interior furnished in this way will guarantee your customers a hygge atmosphere, thanks to which they will be happy to return to your business.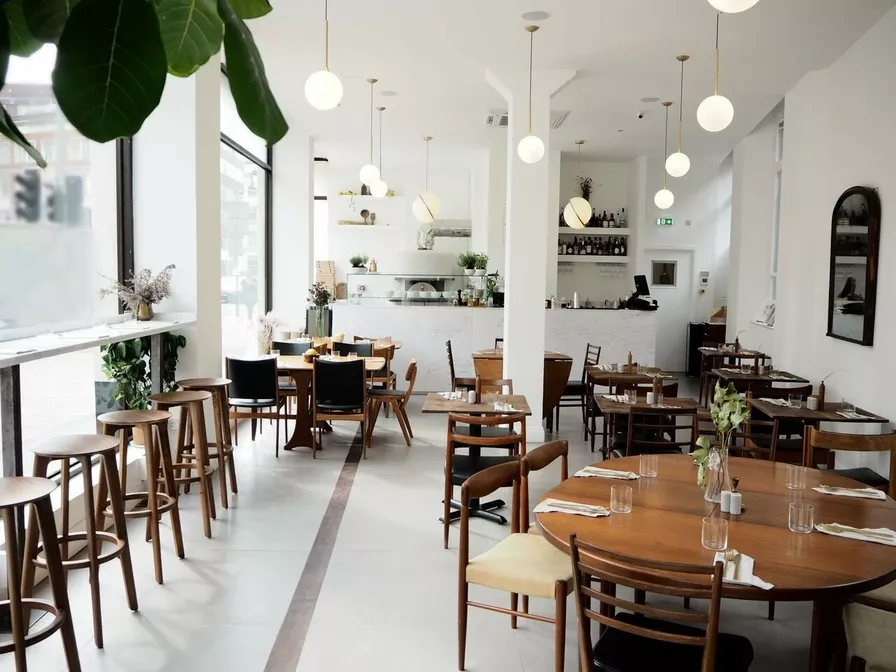 Minimalist style complemented by industrial art
At first glance, it seems to you that minimalism goes hand in hand with Scandinavian style, but appearances don't really lie to you. However, the trend is that minimalism is special for industrial art, which is popular all over the world.
A significant element in this style are concrete trowels, which attract many customers. At first glance, it looks careless, but several agree that the trend of these squeegees restores their inner peace and balance.
Comfortable metal chairs will also be a suitable choice, which will give the room the effect of aesthetics and simplicity. Metal chairs complemented by tables with legs, the coating of which is exclusively matt black, are still in and probably will not fall out so soon from design trends.
As they say, less is sometimes more, this is no exception to this trend. The global trend is, as we know, the saving of our planet, which goes hand in hand with minimalism. You ask how? Minimalism proclaims the preference for the minimum, which also has a positive effect on our planet.
Flowers, which also find a place in this style, also have a positive effect on the human body. Unlike the Scandinavian style, your business, which is inspired by minimalism with a pinch of industrial art, will fit smaller flowers in pots such as zamiokulkas, American agave, golden sandpiper and other interesting flowers that will attract the eyes of many flower lovers. However, you will definitely not step aside if you opt for bonsai, which are still popular and popular all over the world. With their originality, they will win the hearts of many of your customers.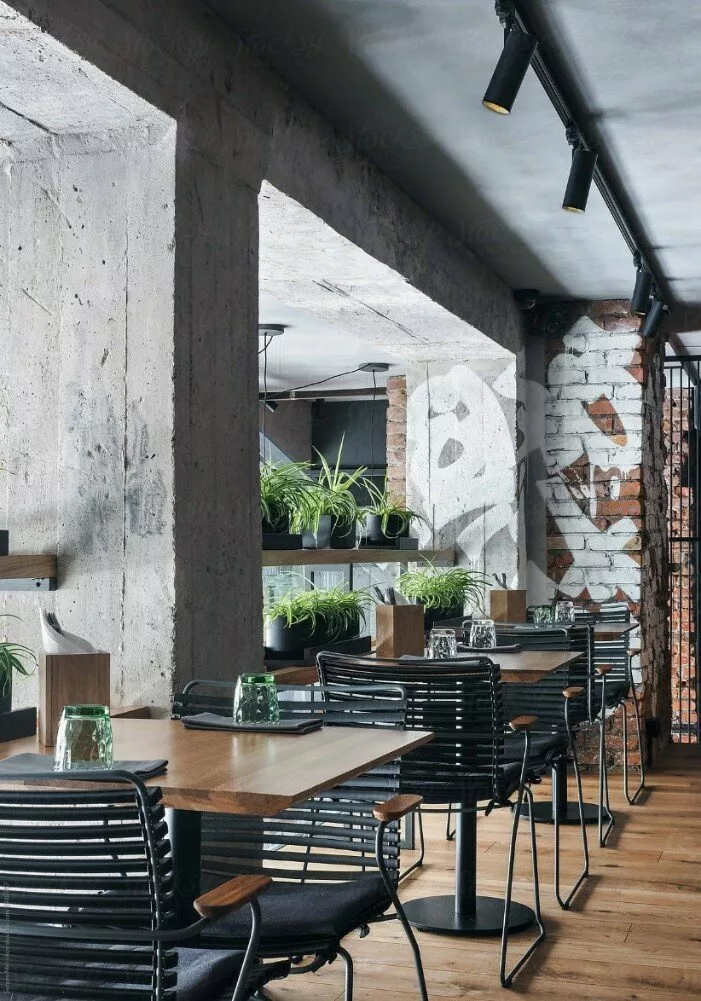 Cosiness that won't get bored
Another trend in interior design is the combination of light, wood and green walls created from flowers. If you decide to be inspired by this style, you will definitely step up to full business. All your customers will love the originality and will be happy to spend their free time with you.
The combination of luminaires that are strikingly reminiscent of ordinary light bulbs will make a good impression on the customer. We can even say that the more bulbs buried, the better. In this, this style of business design differs from the previous two.
Bar stools are a matter of course, but you will not step aside when choosing if you opt for chairs with metal legs and a leather seat. Choosing chairs at the tables is very important. You can opt for a classic wooden one, but you could also give a chance to metal ones, which are made special by a wooden seat.
If you opt for a dark floor, it will add style to the business. Dark floors are perfect for creating contrast and combine well with light colors on the walls. The black floor will give a luxurious look, especially with eye-catching accessories that form light bulbs. In this case, the bulbs form a multifunctional task.
However, we must not forget to revive the interior. In this case, climbing plants such as ivy and sandstone will be a suitable choice, but columnea will also be a suitable choice.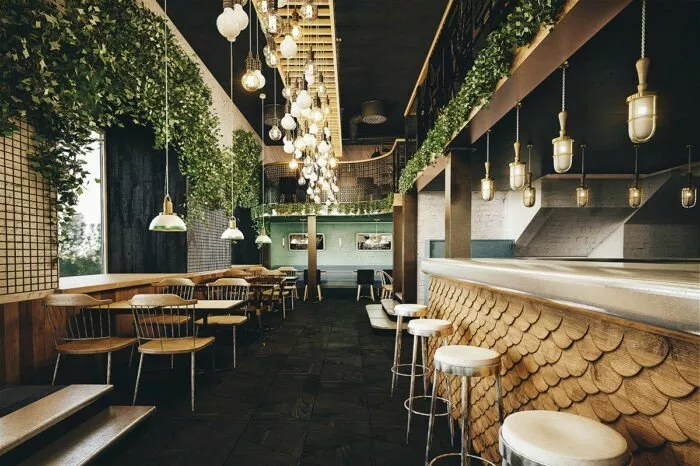 Hipster style or originality knows no bounds
The truth is that a company inspired by this style is considered original, authentic or even quirky and extraordinary. Entrepreneurs like to rely on this style, because the design of their cafes or restaurants is the business card of their personality.
When choosing this style, you can go crazy from floor to ceiling. You don't have to worry about whether the chairs in the company are identical, because this feature will add the uniqueness of the interior. Leather seats that look cozy will definitely be the right choice.
Unusual objects tend to be on the wall. At times, this style seems to be a mixture of everything, but that is why this style is extremely popular. A brick wall is something that should not be missing in your company, as well as wallpaper with an interesting motif.
The stem of the flower is not found in this style either. Flower lovers will also enjoy themselves. We encounter classics such as shoot, azalea or calathea, but also croton or various varieties of ficus or other plants.
The uniqueness of this style will attract all curious people to your company, who will enjoy excellent specialties in a pleasant environment.
Floors that burst with color
This style is especially popular with fans of classics. Marble countertops on tables have been a trend for a long time and this year will be no exception. Here again, we encounter a combination of matte black at the legs of tables. An ageless classic that will definitely not spoil anything. The tables are complemented by comfortable chairs, which are made of velvet in a color that is referred to this year as the color of the year - royal blue.
The most striking accent in this style is the floor. The trend is a combination of geometric shapes, different colors and sizes.
The flowers also have bright green here. This time, priority is given to larger flowers that will fill and aerate the space of your business. Bamboo, monster or even philodendron is popular.
The pleasant environment that you create by furnishing the interior will guarantee you a full company of satisfied customers.